In South African Skydiving, the biggest limitation to large formation is always the lift capacity. The motivation to build record skydives over the African soil is a strong one and this year that hard work paid off.
The Johannesburg Skydiving Club hosts an event every year in memory to Eric "tonto" Stephenson. The tonto boogie attracts skydivers from all over the country and this is the best opportunity to get the larger formation skydives done as the skill level is increased with the visiting jumpers.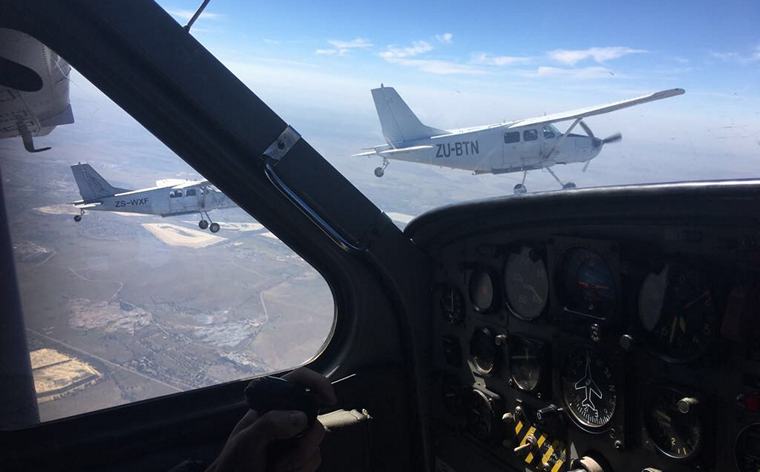 With the use of 3 aircraft this year, the dream was achieved of a 24 Way formation on the 26th November 2017. The build was unusual and not a regular "safe" formation that would normally be built. The aircraft used were 3 Atlas Angels (kudu), equipped with oxygen feeds for the pilots and skydivers. This was important to ensure that hypoxia was not a problem on the jumps. With an exit altitude of 17 000ASL required the use of oxygen in the aircraft.
The four pilots involved in flying the formation of the 3 aircraft were Johno Gouws, Grant Timms, Justin Van As and Cyril Pierce. Excellent controlled flying contributed to the overall success of the skydive and record.
In a tribute to tonto, a formation in the shape of a bird flying was designed and subsequently built over the skies of Carletonville, the home of the Johannesburg Skydiving Club.

The final outcome was an official PASA recognized record of 24 South African Skydivers and 2 Camera men. The official paperwork had to be submitted prior to the jump, with each skydiver having a specified slot. It had to be verified by the SSA judges to confirm it as an official record. The judges were Claire King, Dirk Venter, Michael Panaino and Mohan Chudalayandy.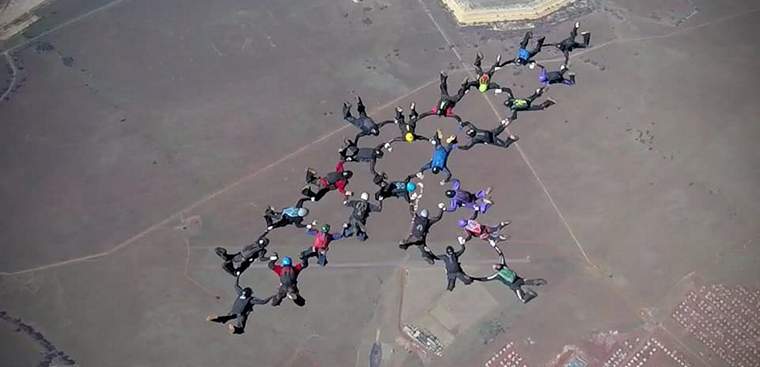 The skydivers on the record jump were: Paul Marcellin, John Williamson, Fritz Schoeman, Beverly Cosslett, Andre d'Argent, Pamela Russell, Amy Kirtland, Bruce Tait, Warren Dent, Debby Vliegenthart , Eugene Potgieter, Bradley Curnow, Stefan Griesel, Andrew Yorke, Charl Coleman, Ian van den Berg, Yolandi van den Berg, Ilke Greef, Michael Walker, Gerrie Peyper, Greg Waspe, Jessica Langlands and Karl Meyer. The Videographers were Ryan Weeks and Nicholas Helfrich.