Alpi Aviation SA:
Flight training, tailwheel conversions, aerobatic training - Krugersdorp, Johannesburg, South Africa

American Classics:
Fly American Classics - Self catering accomodation at Brakpan Airfield

AvDex:
Aircraft Maintenance Organization software solutions - South Africa

Aviation Art by Retha:
Aviation Art of any aircraft or scene - Krugersdorp, Gauteng, South Africa

Aviation Direct:
Flight planning and weather and in-flight navigation systems - Southern Africa

Aviation Software by Avdex:
Aircraft Maintenance Organization software solutions - South Africa

Aviation4SA:
Aviation Legislation at your Fingertips - Get notified when the law changes - straight to your inbox

Avoiding Fatal Flying Traps:
Aiviation Safety
Bat Hawk:
The Bat Hawk has been designed and developed by Micro Aviation South Africa primarily for surveillance and conservation as it is the most affordable light sport aircraft on the market.

Bill Harropís Original Balloon Safaris:

Capital Sound:
Outside broadcasting services in South Africa.
Century Avionics:
Avionics sales, installations, maintenance, support and modifications

Chock Norris Personalised Chocks:
Chock Norris Personalised Aircraft Chocks

Christian Aviation Network:

Comet Aviation Supplies:
The Leading On-Line Aviation Superstore in Africa!
Cubby Aircraft Factory:

DefenceWeb:

DJA Aviation (Pty) Ltd:
Ecko Unltd @:

Highveld Garage Equipment CC:
Quality garage equipment, tools and pumps - South Africa

Hippo Pools:

Independent Aviation:

Johannesburg Flying Academy:
JOHANNESBURG FLYING ACADEMY IS A SACAA AND ICAO APPROVED FLIGHT TRAINING SCHOOL
Mcubed Media:

NAC - National Airways Corporation:

Pilot's Post:
Online Aviation Publication
PJ Aviation - Kanardia:

PJ Aviation - TQ avionics:
TQ avionics agent

Pratley:
Cable glands, high performance adhesives - Krugersdorp, South Africa

QSM Aviation:

Rag & Tube Aircraft Covering:

Rainbow Air School:

RV Bits:
Savannah Aircraft Africa (Pty) Ltd:

Sling Aircraft:
Teesav:

The Aero Club of South Africa NPC:
Representing Recreational Aviation in South Africa

The Aviation Shop:
Aviation art, books, software and toy retailer in South Africa

Van's Aircraft:
RV Aircraft Kit Manufacturing and Supply

Vektor Aviation:
Aviation insurance consulting in South Africa

VuPlex South Africa:
Cleaning solution for plastic products

Wavecrest Beach Hotel: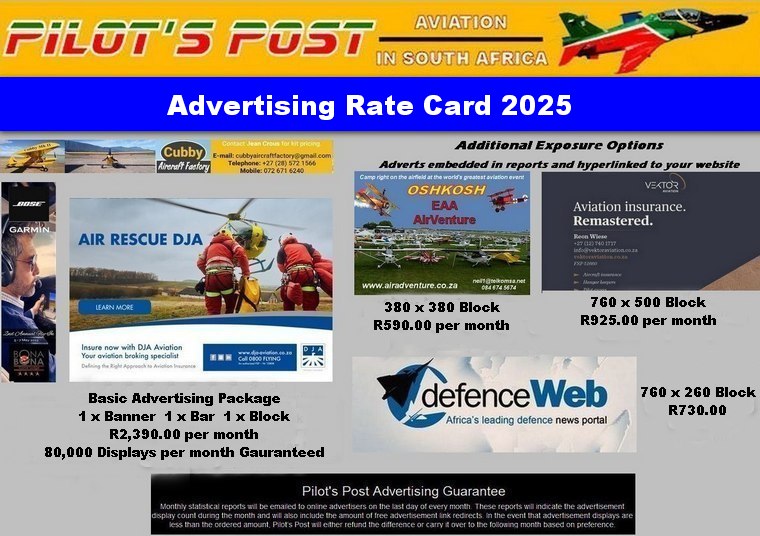 Copyright © 2019 Pilot's Post PTY Ltd The information, views and opinions by the authors contributing to Pilotís Post are not necessarily those of the editor or other writers at Pilotís Post.